HIPAA Academy™: Industry leader for HIPAA Training & HIPAA
Certification
The HIPAA Academy™ has trained over 18,000 professionals and is today the gold standard in the industry for HIPAA Training and certification. HIPAA Academy™ also delivers solutions in the areas of healthcare Professional Services, HIPAA Advisory Services, HIPAA Risk Analysis, Contingency planning, Security Policy development, Audit and Evaluation. HIPAA Academy™ clients include Hospitals, several State governments, including the State of Oregon, Iowa and Illinois, as well as many county governments, long term care organizations and many others.
| | | | | | |
| --- | --- | --- | --- | --- | --- |
| Class Name | # of Training Days | Delivery Method | Content | Prerequisite for Certification | Certification |
| Certified HIPAA Administrator™ | 1 | Instructor Led or online | Privacy Rule | None | CHA™ |
| Certified HIPAA Professional | 2 | Instructor Led or online | Privacy, Transactions, Code Sets, Identifiers and Security | None | CHP |
| Certified Security Compliance Specialist™ | 2 | Instructor Led or online | ISO, PCI/DSS, PIP etc. | None | CSCS™ |
Instructor Led HIPAA Training
Certified HIPAA Administrator™ (CHA™)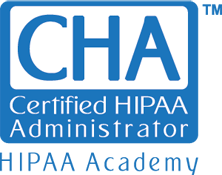 In this training we examine the impact of the legislation from the perspective of end users, such as nurses and administrators, responsible for delivering and supporting healthcare related services.
HIPAA Academy™ will customize any content to meet your requirements. We can add information on your policies and procedures to the HIPAA Training we offer so members of your workforce not only understand HIPAA requirements but also your solution.
---
Certified HIPAA Professional (CHP)
This training helps you better understand HIPAA's Administrative Simplification Act as well as how to create a framework for initiating and working towards a blueprint for HIPAA compliance.
---
Certified Security Compliance Specialist™ (CSCS™)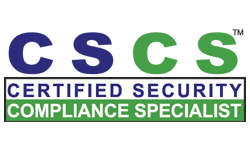 The CSCS™ Program is the first and only program in the world that provides a comprehensive treatment of major information security regulations and standards. You can expect to learn and understand core requirements of the following from the CSCS™ program:
ISO 27002
PCI DSS
Information Security Requirements
FISMA
HIPAA
The Certified Security Compliance Specialist™ (CSCS™) credential is a job-role based designation. This program is designed to enable professionals to understand, prioritize and ultimately assist organizations achieve compliance with information security-based regulations.
---
HIPAA e-learning
A training solution that will help organizations train their entire work population in a timely and cost effective manner. The HIPAA Academy™ is devoted to helping organizations meet the Administrative Simplification Act section 164.530(b)(1). This section requires employers to provide HIPAA awareness and "Job Role" policy training.
Our course is designed to reach all level of employees from providers, billing clerk to housekeeping. It provides Job Role based training to all employees in HIPAA Security Rule and Privacy Rule.